Long Island
Film Transfers
35mm color slides and color photo negatives
movie conversions (film transfers)
All film is inspected, cleaned, lubricated and broken splices are repaired, free of charge. Severely deteriorated film, unsuitable for transfer will be returned to you for only the cost of shipping.
If you choose to edit your own video, movies are transferred to your choice of output media. The most popular formats are video or data DVD/BluRay HD, memory card, MiniDV tape, and portable USB or Firewire hard drive. We can also transfer to streaming formats for the web and to VHS or Super VHS video tape.
Since a division of our company produces video and audio, custom shooting and editing can be performed by our expert staff to enhance your film presentation. For example, we can add video or a soundtrack of the originator of the film introducing, narrating, either on or off-camera, the events on the film. Authored DVD services, with menus and chapters are available. Color correction is available. Film soundtracks are digitized with noise (hum and crackle) removed.
Processed with or without Digital ICE (for color/contrast correction/restoration) at up to 4000 DPI (dots per inch) in data format or DVD video with menus and music of your choice.
Movie film is captured frame by frame, ensuring that your video will be consistent in brightness, contrast and color. No bright spots, flicker, or rolling dark areas in our video. We can also correct film scenes shot with some camera shake.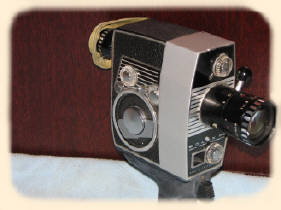 Copyright White Light Technologies, Inc. 2007, 2010